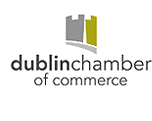 About Us
Dublin Chamber of Commerce represents the interests of businesses, both large and small, in Ireland's capital. As the premier networking organisation in the city, the Chamber offers significant opportunities to promote your business and network with other members.
The Chamber provides a range of business services, including business training, visa and export documentation, international business opportunities and discounts for members on a range of business services.
Join the Chamber
Top Reasons to Join
Exclusive access to the best B2B Networking events
Free Sales & Marketing Workshops with leading global experts
Profile your business to 1300+ qualified Chamber network members
Business Services
All of our services are dedicated to connecting businesses and influencing government decision making in the Greater Dublin Region. With a dedicated team of professional staff the Dublin Chamber offers a broad range of services to help you develop your business.
Policy Representing Business Interests

Events & Networking Opportunities

International Trade Services

Chamber Ambassadors

Export Services

Room Hire

Marketing Publications
We promote your business and raise awareness of the issues that affect the development of your business and Dublin:
Business Ireland - Quaterly Magazine
Dublin Ireland - Annual Membership Directory
Dublin Business - Regular Newsletters
Dublin Business Live - Monthly Ezine
Key Policy Reports
Access EU: Enterprise Europe Network Newsletter - Monthly Ezine for exporters
Sponsorship opportunities to members across our events programme and publications